---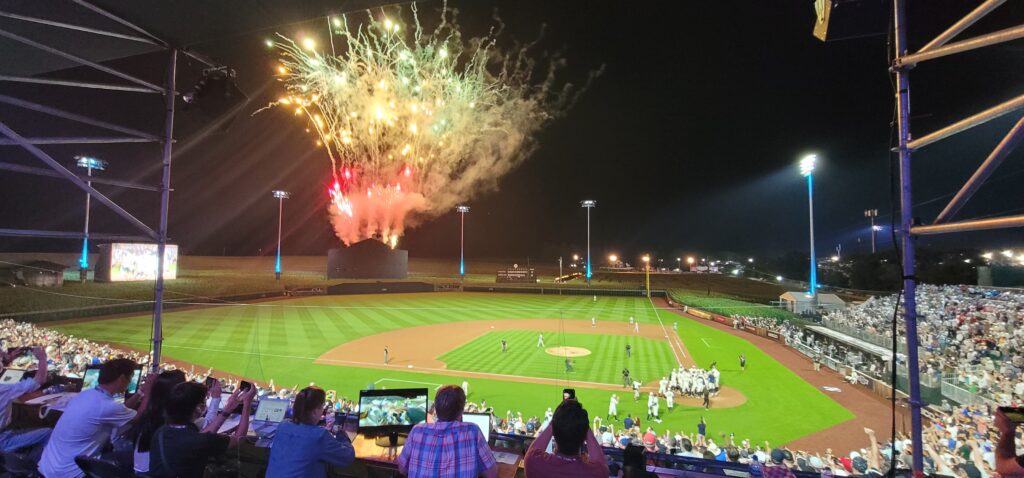 It only took one game …
Only one game was played at the MLB at Field of Dreams park in Dyersville, Iowa, but that was enough to do the following:
Be the first big-league game ever played in Iowa;
Generate the highest TV ratings for any regular-season baseball game on any network since 2005;
Prompt Des Moines Register writer Randy Peterson to declare that the game "was a big-league event, historic for Iowa. It all seemed unbelievable. But it was more than that. It was perfect;"
Bring Kevin Costner back to the site where he filmed the Field of Dreams movie;
Cause the 32-year-old movie to become the most-ordered DVD on Amazon;
Convince MLB to play another game there on August 11, 2022, when the Cubs will tangle with the Reds;
Win the 21st annual BaseballParks.com Ballpark of the Year Award
That's right. Even though there were nine new parks in the running, the one with the smallest construction budget of them all won the coveted award. The one that drew the fewest fans this year (8,000) won. The one that only hosted a single game won.
It was that special.
For much more about this ballpark, read the press release announcing the award, and check out our in-depth review of the ballpark and the experience that those 8,000 lucky folks enjoyed.
~ ~ ~ ~ ~ ~