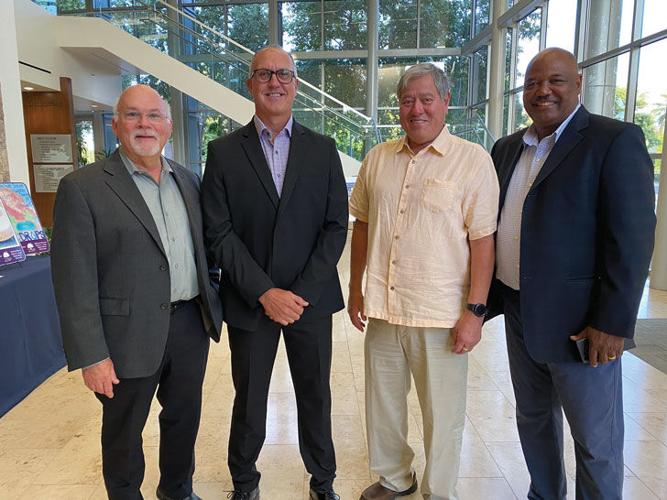 – – – – – – – – – – – – – – – – – – – – – – – – – – – – – – – – 
Those faded, peeling fan graphics above the outfield fence at Big League Dreams will be removed and replaced with new graphics in the summer—just one of the many exterior improvements by TC Sports Group now that it has full control of the facility on Fairfield Ranch Road in Chino Hills.
Managing director Larry Reynolds and chief operating officer Kevin Flora of TC Sports Group were introduced to the community during Tuesday's city council meeting when an amended and restated Big League Dreams agreement was approved.
Under the agreement, TC Sports will invest $1.8 million in capital improvements for the aging facility including restaurant upgrades, turf and pavement enhancements, and new paint on all the buildings.
"We put a great team of people together," said Mr.  Reynolds, managing director of TC Sports. "I graduated from Stanford and grabbed my partners when we played back in the day. We have a strong group of people with great character."
Mr. Reynolds said TC Sports has a big vision that is consistent with the city's vision. "The main point I want to emphasize is that without vision, it won't work," he said. "The vision is great, but you have to step into it and make it a success."
Mr. Reynolds said Big League Dreams is not just a baseball facility. "We want to create programs for character development, where kids can learn that when they strike out, they come back," he said. 
TC Sports purchased the rights to operate all nine Big League Dreams USA facilities in January 2021, with the Chino Hills facility as the corporate headquarters.
City manager Benjamin Montgomery announced that TC Sports Group has been operating Big League Dreams in Chino Hills since the beginning of January 2021 and throughout the uncertainty of COVID.
"TC Sports was able to manage the park and create an environment where revenue and profits were made that will come to the city," Mr. Montgomery said.
A new revenue model has been worked out where rent is set at 9 percent of gross revenue with a minimum annual rent of $400,000 to be paid to the city, Mr. Montgomery said.
A $442,170 payment of net revenue from TC Sports will be paid to the city for the operation of the park in 2021, he said.
Mr. Flora, chief operating officer who played for the California Angels and the Philadelphia Phillies in the 1990s, said the goal of TC Sports is to provide players and guests with the "finest sports facility in the country by returning it to the standards the city and our guests expect."
Mr. Flora said, "Not only will we return it to the way it looked when it was built (in 2003), but we will add artificial turf to the infields, which will provide the highest quality fields that can withstand 365 days of games and activities, as well as mitigating against rain cancellations so the teams and players can play more frequently during the winter months."
Mr. Flora said the restaurants will be upgraded with new flooring, large-screen televisions, paint, restrooms, lighting and furniture to make it as clean and comfortable as possible for guests.
"Lastly, we plan to offer youth baseball and fastpitch academies using the indoor pavilion and other areas within the facility," he said.
Mr. Flora said the Chino Hills facility is the company's headquarters, which is an ideal location in southern California. He said TC Sports is excited about the future of Big League Dreams and having a strong relationship with the Chino Hills City Council and city staff over the course of the new lease term.
"I'm so happy we're finally here," said Mayor Ray Marquez, who has been raising concerns about the lack of revenue from Big League Dreams over the past decade. "This has taken such a long time." Mayor Marquez said TC Sports was given a list of "do's and don'ts" which they have followed "to the letter" including quarterly inspection procedures and proper maintenance standards.
One of the conditions is for TC Sports to maintain the adjacent Fairfield Ranch Park that was neglected by the former operator. 
Mr. Flora said the facility has been "virtually full" since reopening in March 2021, with 30 to 60 teams playing each weeknight and every weekend booked with at least 40 teams.
The park has also been holding the typical youth baseball, youth fastpitch and adult softball leagues during the week, in addition to youth tournaments and group business events every weekend, Mr. Flora said. Beginning next week, Big League Dreams will host seven large-scale regional and national baseball and fastpitch tournaments throughout the summer, he said. The 34-acre park has six replica Major League baseball fields: Yankee Stadium, Ebbets Field, Crosley Field, Tiger Stadium, Fenway Park, and Wrigley Field.
The park also has batting cages, two restaurants that overlook the playing fields, a playground, sand volleyball courts and an indoor pavilion.
************************************************************
"NEW" Amateur Sports Added !
* ( 26 Different Amateur Sports ) *
( Teams, Officials, Tournaments, & Facilities ) *
1-800-622-7370
. . . . . . . . . . . . . . . . . . . . . . . .
www.sadlersports.com/soda
. . . . . . . . . . . . . . . . . . . . . . . .
"Proudly Serving The USA/Canada
Since 1981"

www.sportsplexoperators.com
. . . . . . . . . . . . . . . . . . . . . . .

. . . . . . . . . . . . . . . . . . . . . . . . . . . . . . . . . . .
"Proudly Serving The USA/Canada
Since 1981"
. . . . . . . . . . . . . . . . . . . . . . . . . . . . . . . . . . 
[[ Available In SODA Store Online !]]
** "STAY SMART ** STAY SAFE"